A robust combination of e-procurement, invoice management and data exchange
M-Exchange solutions optimise your total procurement strategy of non-production materials and services. We leverage a combination of catalogue solutions and efficient EDI processing with suppliers. Round this off with comprehensive IT services – from ERP integration through to custom-designed process solutions, topped off by complete EDI service.
Complete solutions for operational procurement.
Take advantage of the extensive purchasing services offered by our affiliate, PSG Procurement Services GmbH. Spot Buy, procurement outsourcing, and pre-negotiated catalogue inventories: through longterm partnerships, M-Exchange has strong resources to drive your strategic procurement success. Every step of the way, excellent customer service consultants are here to personally advise you on any aspect of the procurement process.
The core of every PSG product is making your procurement and payment process effortless. No matter how many suppliers you do business with, you have only one contact with us – for ordering, delivery, invoicing and payment. We take care of the digital front as well, ensuring smooth interaction with your other applications and optimal integration into your digital and commercial processes. Excellent on-site support and user training complete our service package.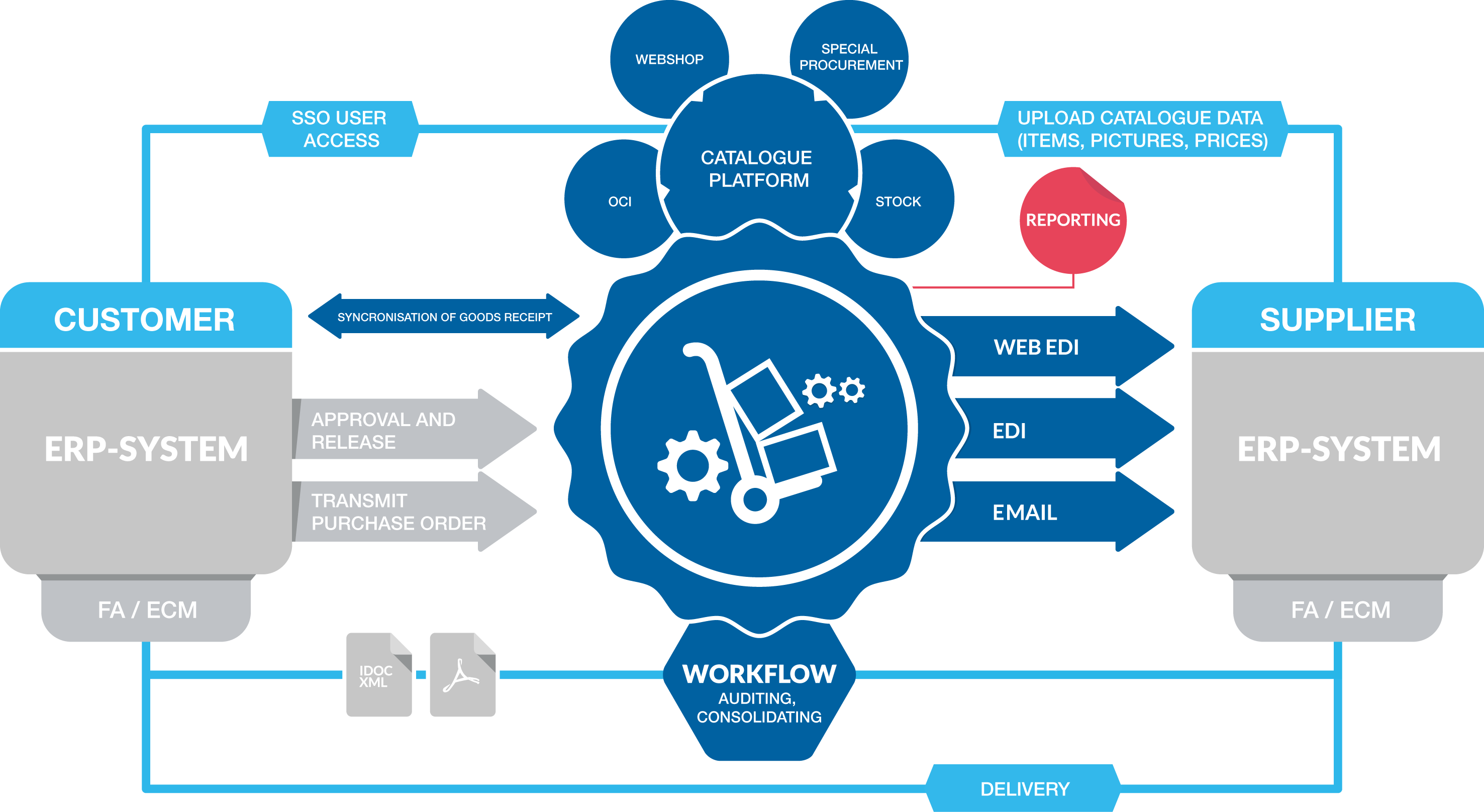 The cutting-edge platform to optimise procurement
The clear choice: M-Exchange's business platform is your comprehensive solution to optimise business processes and to streamline and automate corporate procurement.
Sustainably reduce process and administrative costs by up to 60 percent, and virtually eliminate manual checks.
Catalogue Procurement (C-items)
Webshop – Sell Side
Services
Fair market conditions
Inclusion of existing suppliers
Free text orders
Intelligent search functions (OCI)
Web-based (SaaS)
Integration with all ERP systems
Intuitive user interface
Flexible & scalable
Graphic workflow generator
Detailed reports
Fast, secure, transparent
M-Exchange's powerful purchasing portal combines the best of classic catalogue purchasing with an array of search possibilities, high usability, and complete integration with all of the current ERP systems.
External catalogues and webshops can be integrated into your procurement process using our easy OCI (Open Catalogue Interface), then searched through directly using Background Search. Order details are automatically recorded and checked.
The M-Exchange platform can also be deployed as a top-quality webshop, integrating customers and partners in the sales process.
Free of licensing costs
Free of maintenance costs
No media breaks
No training required
Maximize purchasing efficiency
The M-Exchange procurement platform lets your purchasing department concentrate on their core competencies – investing full energy into the strategic side. Our transparent processes drive purchasing efficiency.
Drastically cut handling time with automated order processing. Have confidence that every step of the procurement process can be securely traced and audited. Our e-procurement solution enables centralised control of decentralised procurement: for maximum success.
Time
Short roll-out time
Implementation: 8-12 weeks
Go-live date: 3 months after kick-off
No training required
Cut order processing time by half
Costs
Sustainably reduce purchasing process costs
No hardware and software costs (SaaS)
Save on routine update and release costs: only pay for major releases
No added admin and management costs for software upgrades exepted from major releases
Be free of supplier-catalogue maintenance requirements
Compliance
Documentation and archiving (order process, approval and release)
Ensured adherance to SOX and compliance guidelines
Assured oversight and control
Suppliers
Effortless supplier comparison
Streamlined number of suppliers and orders
Strengthened supplier relationships